I'm very sad to say that Ravage passed away Thursday night (May 3, 2018).

I love this awesome, little guy so much and was so grateful to have him in my life for 15 and a half years. When his health got more challenging 2 years ago, I was fortunate enough to bring him into work with me and loved spending even more time with him. It still feels surreal and I keep expecting him to walk in the room, looking for me. Thankfully, with medical assistance, we were able to maintain a great quality of life until the end.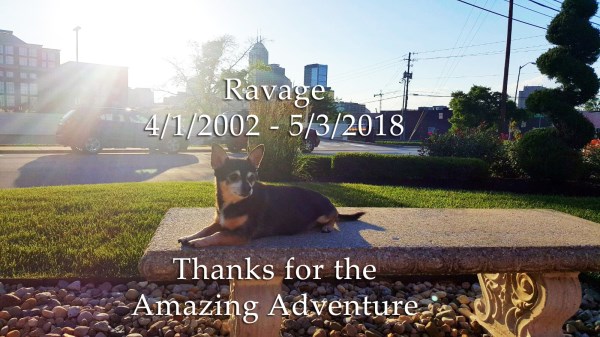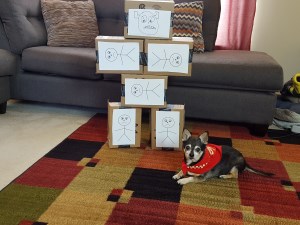 Ravage's Angels' Adventures will conclude as they face Peppy Monkey Baby and Bad Guy Boxtron! (all filmed, fortunately)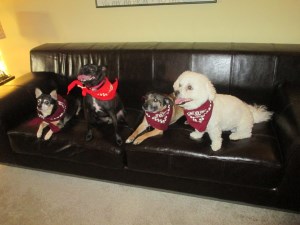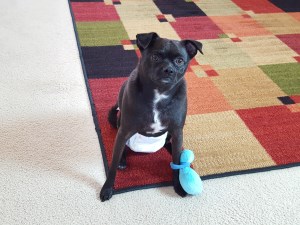 Ravage and Ravage's Angels raised $3,400 for Indy Mutt Strut 2016! Thanks to all who donated and participated!!

Recent Ravage's Movies
The latest Ravage's Angels Adventure has just been released - Puppy Monkey Monster Part 1 and 2!!!!
Ravage's Angels 2016 Part 1
Puppy Monkey Monster

Ravage's Angels 2016 Part 2
Special Guest TurboRoo!

Ravage's Angels 2016 Mutt Strut Video Challenge
(Pinky and the Brain Themed) **Challenge Winner!!**

Ravage's 2013 Training Montage Edited for 2016
(Eye of the Tiger)

Ravage's Angels 2014-2015 - Ravage's Angels face off against Dr. Gizmoticus and Justin Beaver
All Ravage's Angels Movies